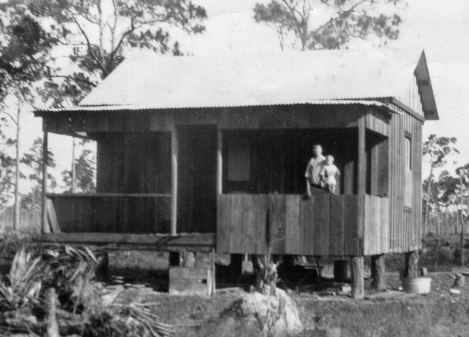 Margie's father, Silas Kelly, built this homestead house on their 160-acres at Fort Denaud, east of Fort Myers between Alva and LaBelle in 1926.
Margie is a native Floridian. Her father Silas Kelly came down from northern Florida and had claimed a 160-acre homestead at Fort Denaud, Florida. Silas built a house on the property for his wife and baby daughter, Margie. Margie was only six months old when she and her mother came down to live in their newly constructed home.

In that same year, this young family was nearly destroyed by the flood from Lake Okeechobee's overflow as a result of a fierce hurricane that came through the area. They lost the roof off of their house. Because the floodwaters rose, it was necessary for Silas to get his family to higher ground.



He carried baby Margie and led his then pregnant wife into the woods where they would be safe. They returned to their home a couple of weeks later to find their mule and chickens dead and their crops wiped out.
In 1927 after Silas had repaired and rebuilt the homestead house, Margie's brother James was born. The family stayed on the claimed homestead long enough to obtain titled ownership and then they relocated to Fort Myers.
Silas was business minded and was successful managing a hotel, service station, and a fish market while they lived on a houseboat at the foot of the old wooden Caloosahatchee bridge. The Edison bridge had not yet been built. This was the bridge at Freemont and Riverside. This was also prior to the Yacht Basin being built.
Margie got to see Fort Myers grow. She remembers much about the way the area was and how it grew. Silas' fish market became known as Kelly Seafood.
She attended elementary school at Gwynne Institute, then Fort Myers Jr. High, and Fort Myers High School. After graduation from high school, she moved to Miami where she worked as training supervisor for computing, radio dispatching, and 911 calls. Right after she retired (1986), she met her husband Willie Johnson. After they were married they lived aboard Willie's sailboat in Marathon, Florida. And spent time boating in the local waters.
Margie found her way back to Fort Myers in 2000 and now lives at Shell Point which is very close (within 9 miles) to where she originally lived on the river. She is a docent at the Southwest Florida Historical Museum and a proctor at the Genealogy Computer Lab at Shell Point.
Click on photos below to view larger image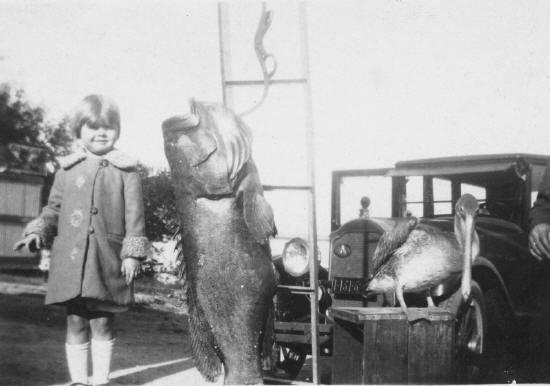 Click on photos above to view larger image
Margie Kelly Johnson, Jewfish, and Billy the Pelican at foot of old wooden Caloosahatchee Bridge in East Fort Myers (Freemont and Riverside) circa 1928.


Website Design (theme, graphics, layout, etc.) created 02/05/07 (Rev. 07/23/11)
©2007 Denrig, Inc., All rights reserved.
Content (stories, photos, text, captions, etc.) ©2007 Marjorie Kelly Johnson, All rights reserved.