Once upon a time, there was a house in a land far away which had been sitting empty for over 30 years and was now about to be restored/refurbished by the new owner. The owner contacted a beekeeper on 4/7/05 to remove the bees which were going to-and-fro from a couple of the corners of the crank-out awning windows. There were also bees in the living room. He didn't want to kill the bees, but wanted them removed and relocated back to the beekeeper's apiary.
The process began in early April and continued until middle of May 2005.
Click on photos below to see larger image
The beekeeper fabricated screen cone for one-way (exit only) bee traffic and installed over bee entrance at corner of window. Bait hive (with a purchased caged queen) was set on stacked bales of hay to suggest a new home for the exiting bees which could not return to their old nest. There was a lot of difficulty keeping the bees from finding new entrances to their old nest. They found ways to get in around the window frames and additional taping and sealing by owner was required on a few occasions.
Notice bees easily exit from end of cone and then try to re-enter near base of cone. Unable to defeat the cone's base, they set up home in the bait hive. You can see one of the bees fanning the "come here, this is the entrance" scent so that bees returning from foraging will enter the bait hive rather than try to enter their old nest.
The cone served the purpose on the exterior of the building; however, there was another exit to the inside of the building. Bees filled up the space between the window and interior screen. It was necessary to get out the homemade bee vacuum powered by rechargeable 18V shop vac. Bees were sucked into Styrofoam cooler with screened vents so as not to harm any bees. Bees were relocated to new home at the beekeeper's apiary.
Vacuum was adjusted to a very low suction to eliminate any damage to bees during the vacuuming. Speed was necessary to save the lives of the bees, because if they were allowed to remain trapped between the screen and window, they would have eventually died from the heat.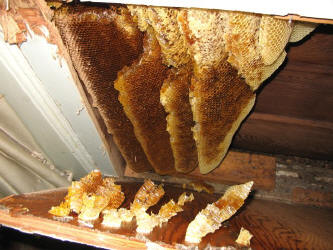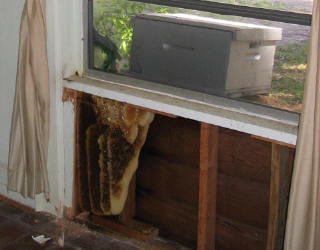 Click on photos above to see larger image
After all the bees had been safely relocated, Stuart (building owner) opened up the wall from the building interior to expose the vacated nest and stores of honey. He completely removed the nest and honey, then replaced the wall. As with most bee removal jobs, removal of old nest is highly desirable and recommended. If this large nest and honey stores had not been removed, then it would have soured and fermented within the walls attracting bugs and other undesirable pests.
The removed bees now have a new home and new queen... and lived happily ever after.
If you live in Lee County (Alva, Olga, Buckingham, Cape Coral, Lehigh Acres, or Fort Myers) and have need of a "bee removal expert", then e-mail Old Man Riggs... he may BEE able to get you in touch with a beekeeper or bee remover who can handle this type of project without killing the bees. If bees must be killed, then a pest control person should be contacted instead of a beekeeper.
Contact Old Man Riggs for your Bee Removal needs in Alva, Lehigh Acres, Fort Myers and other nearby areas. If it is outside of my area or expertise, then I will put you in touch with somebody who can possibly help. Click on the banner below for my contact e-mal address: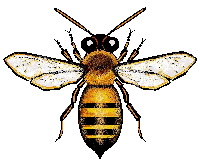 [ Cordova Project ] | [ Cat Country Project ]
[ Lehigh Travel Trailer ] | [ Tree at RV ] | [ Log Home ]



[ Honey Bees MAIN ] | [ Bees in School ] | [ Bee Removals ] | [ Bee BLOG ]
[ Bees on Flowers ] | [ Killer Bee Fears ] | [ 2007 FL BEE Convention ]



Photos provided by Stuart



created 06/19/05, rev 09/21/15
©2005 to 2008 Denrig, Inc. & Stuart, All rights reserved.