Once upon a time, some bees had built their nest under the eaves (soffit) of a very nice log home. They were about 12 feet up above the porch which required the use of a good extension ladder to do the removal.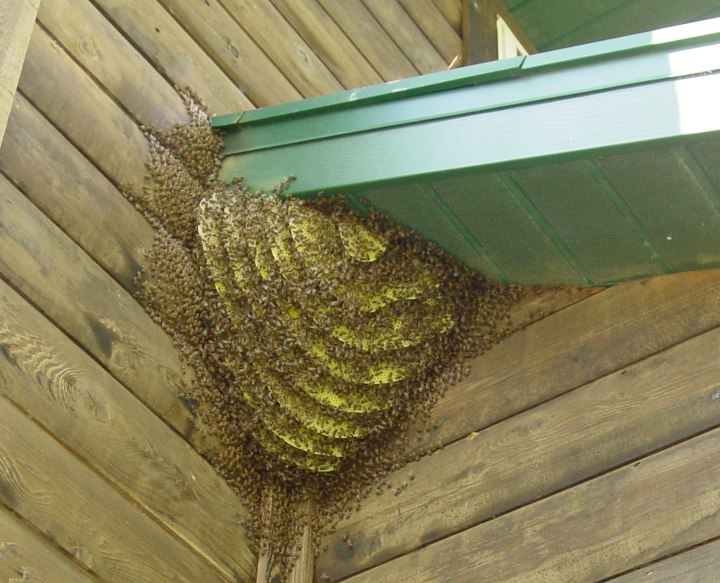 Click on images below to view larger version of photo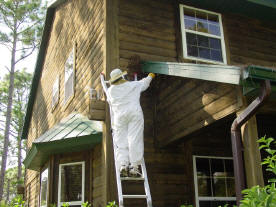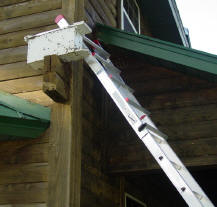 On September 30, 2006, each wild feral comb was cut loose and carried down the ladder for placement in the bait NUC hive. Once all the nest (capped/uncapped brood/larvae, eggs) and honey were removed, the NUC hive was set in place near the top of the ladder.
When the beekeeper returned two (2) days later the bees had taken up residence in the NUC hive. Many bees were still hanging around the old nest area, so that area was sprayed with dish detergent and scrubbed to help get rid of the former nest smell. Straggler bees were also heavily smoked to force them out away from the old area and over toward the NUC.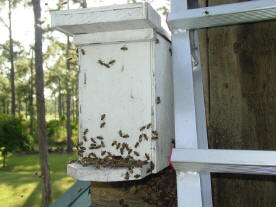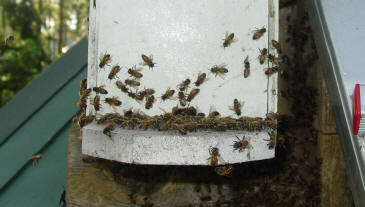 Click on images above to view larger version of photo
The nuc was returned to the beekeeper's apiary, re-queened, and the bees lived happily ever after.
If you live in Lee County (Alva, Olga, Buckingham, Cape Coral, Lehigh Acres, or Fort Myers) and have need of a "bee removal expert", then e-mail Old Man Riggs... he may BEE able to get you in touch with a beekeeper or bee remover who can handle this type of project without killing the bees. If bees must be killed, then a pest control person should be contacted instead of a beekeeper.
Contact Old Man Riggs for your Bee Removal needs in Alva, Lehigh Acres, Fort Myers and other nearby areas. If it is outside of my area or expertise, then I will put you in touch with somebody who can possibly help. Click on the banner below for my contact e-mal address: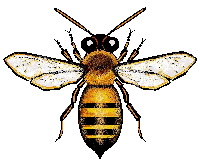 [ Cordova Project ] | [ Cat Country Project ]
[ Lehigh Travel Trailer ] | [ Tree at RV ] | [ Log Home ]



[ Honey Bees MAIN ] | [ Bees in School ] | [ Bee Removals ] | [ Bee BLOG ]
[ Bees on Flowers ] | [ Killer Bee Fears ] | [ 2007 FL BEE Convention ]




created 10/05/06, rev 09/21/15
©2008 Denrig, Inc.