Once upon a time, some bees had built their nest in a tree at a RV business. They were about 10-ft up, towards the center of the tree, and on the intersection of several branches the largest of which was about 3 to 4 inches in diameter. This required a good ladder and a lightweight (silent battery powered) chainsaw.
Click on images below to view larger version of photo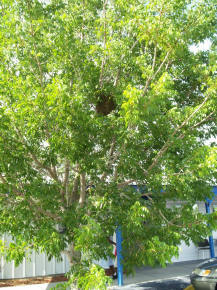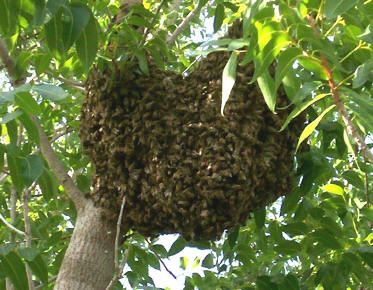 Click on images above to view larger version of photo

The beekeeper purdently waited until after business hours and after employees were gone before disturbing the nest. The parking lot was secured and cleared of all bystanders. The bees were smoked since all bees (even the GENTLE ones) are protective of their nest and honey storage. They quickly pulled back exposing the partially filled feral combs and concentrated on licking up the stored honey. Then the 3 branches above the nest were removed with the chainsaw (battery powered, so as not to excite the bees). The main branch was partially cut about 8 inches below the nest. The beekeeper easily snapped off the section and carried it down the ladder. Because of the extreme care and precautions taken, the bees remained calm and made no attempts to sting the beekeeper.
Click on images below to view larger version of photo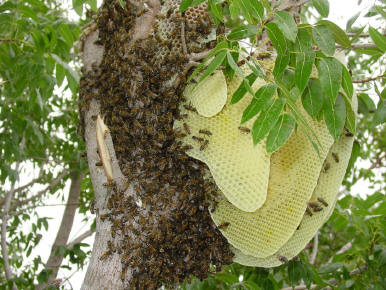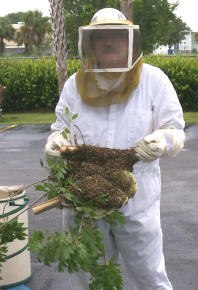 The removed nest was bagged (in breathable, bee-tight container) and carried home for placement in a nuc hive with a new queen where they lived happily ever after.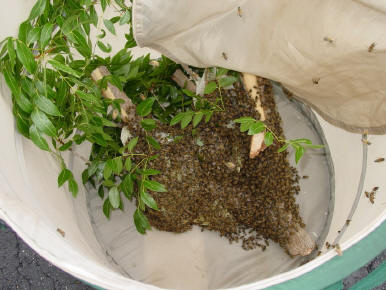 Click on images above to view larger version of photo
If you live in Lee County (Alva, Olga, Buckingham, Cape Coral, Lehigh Acres, or Fort Myers) and have need of a "bee removal expert", then e-mail Old Man Riggs... he may BEE able to get you in touch with a beekeeper or bee remover who can handle this type of project without killing the bees. If bees must be killed, then a pest control person should be contacted instead of a beekeeper.
Contact Old Man Riggs for your Bee Removal needs in Alva, Lehigh Acres, Fort Myers and other nearby areas. If it is outside of my area or expertise, then I will put you in touch with somebody who can possibly help. Click on the banner below for my contact e-mal address: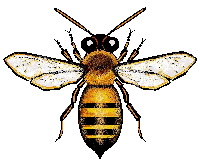 [ Cordova Project ] | [ Cat Country Project ]
[ Lehigh Travel Trailer ] | [ Tree at RV ] | [ Log Home ]



[ Honey Bees MAIN ] | [ Bees in School ] | [ Bee Removals ] | [ Bee BLOG ]
[ Bees on Flowers ] | [ Killer Bee Fears ] | [ 2007 FL BEE Convention ]




created 08/18/06, rev 09/21/15
©2007-2009 Denrig, Inc.