Once upon a time, a beekeeper "Honey Bee Man" was proud to assist a DJ Robin in his bee adventure (quest for a little WILD honey) broadcasted live, on the air, Wednesday morning, July 27, 2005. Another DJ Stacy did the play-by-play account of the event and Robin's awesome courage.
Robin's Goal (turned Obsession): Personally remove a HUGE bee nest from the lime tree in his front yard in a land far away... and STEAL the bees' store of honey. The beekeeper only freely volunteered his assistance, because the DJ was dead serious about removing the bees on his own and the beekeeper wanted to make sure it was done safely. The beekeeper was paid nothing and was not compensated in any way for assisting.
WARNING: Please don't try this at home. These bees were observed for many days prior and had never bothered any humans (lawn maintenance caretakers, etc.). They were easily approached without guard bees bouncing off your forehead and they were properly prepared (calmed, smoked, tested). Both the DJ and the beekeeper were fully suited-up with professional beekeeping gear for this procedure. The area was clear of bystanders and nobody was allowed in the area. The play-by-play announcement was done remotely from within the safety of a bee-safe observation vehicle.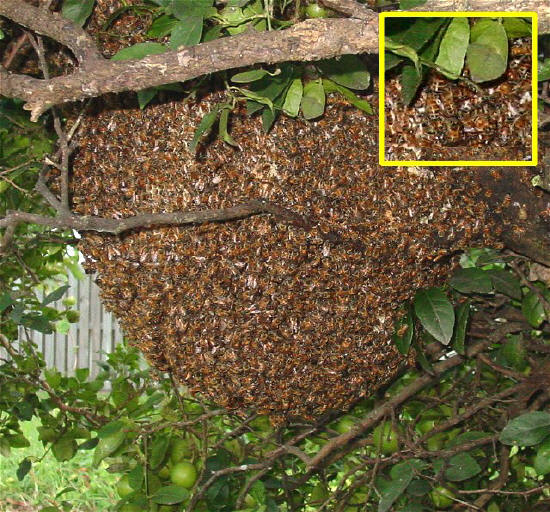 Above is the HUGE, frightening nest and the object of Robin's desire. Notice how the limes are dwarfed by this monster bees nest! However, this doesn't scare Robin...
Click on photos below to see larger image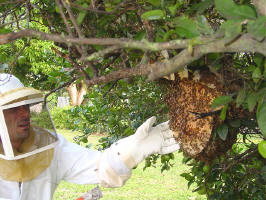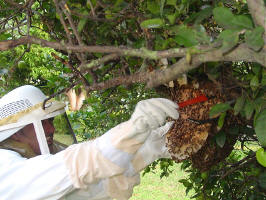 Robin fearlessly attacks the heart of nest and removes the feral (wild) brood comb (one-by-one) until the entire nest was gone (placed in swarm capture frames & inserted in wooden hive for relocation).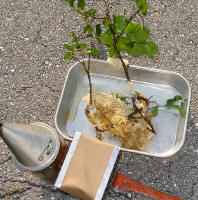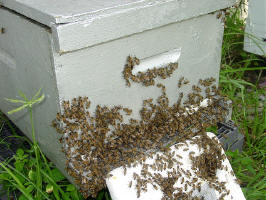 Click on photos above to see larger image
When the battle was over all that was left was a removed branch with Robin's precious bounty of wild honey comb and oozing honey (left photo). However, all this came at a price. When Robin removed his protective suit, he was ferociously attacked by the monster queen bee (Stacy in Queen Bee Costume). All is fine... he survived the "mock" attack.
The beekeeper relocated bees to their new home (right photo). Now Robin's bees have a new home and a new queen, where they will not be needlessly feared by humans again and lived happily ever after.
WARNING: This may have appeared to be easy, simple, or even funny, but it went off without a hitch only because experience and proper precautions were used to guarantee the successful removal. Please do not think about doing this on your own...THE RISKS ARE TOO GREAT... instead CALL A BEE KEEPER experienced in bee removal. Please don't become a statistic by being a bee sting victim who ends up in a hospital or worse.
If you live in Lee County (Alva, Olga, Buckingham, Cape Coral, Lehigh Acres, or Fort Myers) and have need of a "bee removal expert", then e-mail Old Man Riggs... he may BEE able to get you in touch with a beekeeper or bee remover who can handle this type of project without killing the bees. If bees must be killed, then a pest control person should be contacted instead of a beekeeper.
Contact Old Man Riggs for your Bee Removal needs in Alva, Lehigh Acres, Fort Myers and other nearby areas. If it is outside of my area or expertise, then I will put you in touch with somebody who can possibly help. Click on the banner below for my contact e-mal address: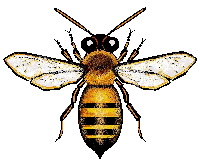 [ Cordova Project ] | [ Cat Country Project ]
[ Lehigh Travel Trailer ] | [ Tree at RV ] | [ Log Home ]



[ Honey Bees MAIN ] | [ Bees in School ] | [ Bee Removals ] | [ Bee BLOG ]
[ Bees on Flowers ] | [ Killer Bee Fears ] | [ 2007 FL BEE Convention ]





created 07/27/05, rev 09/21/15
©2005 - 2008 Denrig, Inc., All rights reserved.